Crossing the Irkeshtam Pass Border
For those who are looking to cross the Irkeshtam Pass Border from China into Kyrgyzstan (or the other way, though some things may be different in that direction), I have prepared this post, which goes through the times which things happened.
Another great resource came from our friend Josh at the Far West China blog. He prepared a similar post, though his post combines my experience with that of several other people who crossed the pass in 2014. Both his and my post should be helpful for anyone trying to cross the pass.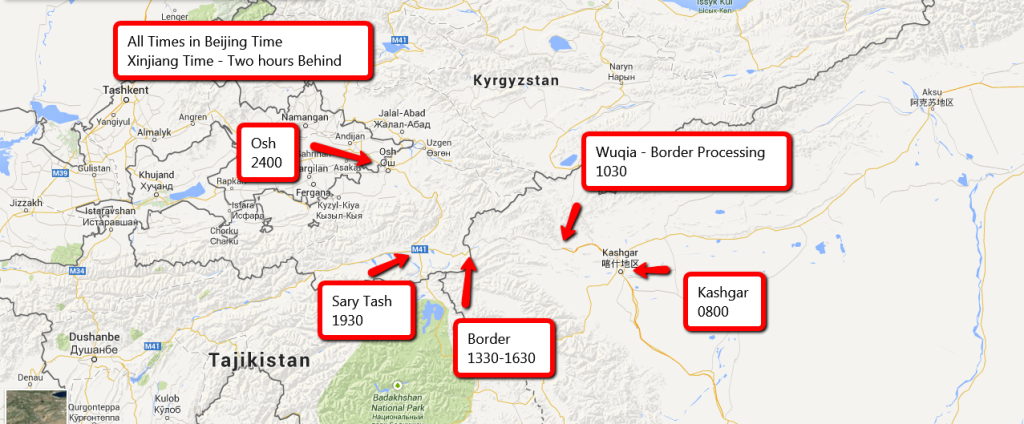 Border Crossing
All times are in Beijing Time.
0800 – We left in a shared taxi to go to Ulugqat/Wuqiazhen, where the border processing center is. Cost 30 rmb per person, or 120 rmb if you want to pay for the whole car.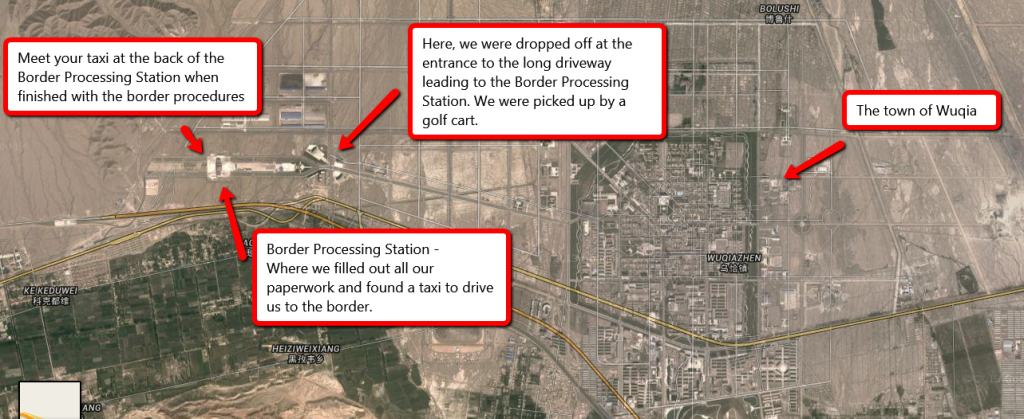 1000 – We were taken into the border processing center by a border guard golf cart because we were dropped off near the processing center. If you are just taken into the town of Ulugqat/Wuqiazhen, a taxi to the border processing center should cost no more than 15 r.m.b. The border processing personnel arrive at 1000 and do not begin to work until 1030.
1030 – A woman who could not speak English looked at our passports, calling another woman over and telling us that we had to find a taxi. We quickly found a taxi and two Uighurs going to the border. We told the woman who spoke English that we had our cab. She then directed us to the line where we were processed. The taxi ride costs 100 rmb per person, 400 per car. The ride is 130 kilometers long.
1045 – We were finished with border processing, but our driver had gone off. Woman who spoke English went to look for him.
1115 – Left border area after finding driver. We were part of a three taxi caravan.
1215 – A quick passport check at a guard post along the road.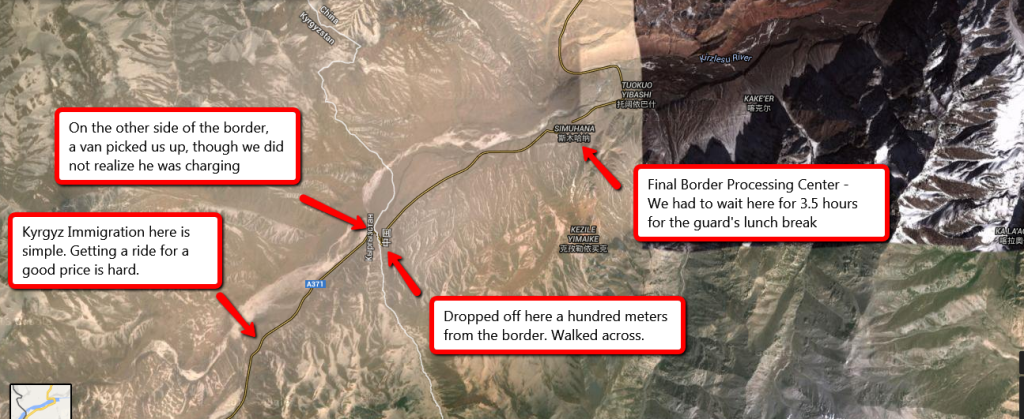 1310 – We arrived at the final border guard station, four kilometers away from Kyrgyzstan. The guards took our passports, along with our driver's license, but they told us they were leaving for lunch. Their lunch lasts from 1330 to 1630, but today they were taking off early.
After they took our passports and looked through them, they allowed one car in our three taxi caravan through, the one with Han Chinese passengers. If you can, try to find Han Chinese to share a car with. We had two nice Uighurs in our car, so we were not allowed through, forcing us to wait three and a half hours. Our Uighur and Kyrgyz caravan-mates argued with the guards until he threatened them.
1330-1630 – We wasted time around this border town, reading, eating instant noodles and drinking with the Chinese-Kyrgyz border guards. This border town is the backwater of backwaters, and it looks like it may have experienced one or two armageddons. Husks of buildings lie unused, empty except for trash and feces. We were told there was a restaurant in this town, but all we found was a store. For lunch, I had instant noodles and two beers to take the edge off of the guard's discrimination against the Uighurs.
1630 – We lined up for the border crossing.
1650 – We were told to board a very nice bus. Once we boarded the bus, our passports were given to us, returning them to us after three hours. We were then taken the four kilometers to the Kyrgyz border, where we walked across.
1720 – A taxi van came to pick us up and take us the three kilometers to the Kyrgyz border processing center. It costs 100 soms, $2USD. We did not find an ATM at the border. We relied on changing r.m.b. at a bad rate.
1730 – Kyrgyz border processing is easy. We were led to a man in another building who spoke English. He wrote our passport numbers down and answered any questions we had.
1745-1900 – We argued with the taxi cartel. A taxi should be 6000 soms for a six person taxi, about $80USD, but you are only guaranteed that price if you are Kyrgyz. We were eventually able to get $1500 soms per person, though I have heard of some Westerners being able to get the regular price of 1000 soms per person.
Another option is to get a ride from a truck driver. They are friendly and cheap. 500 soms to Osh. Keep in mind that on these mountainous roads, they drive slowly. A four hour ride to Osh might be an eight hour ride in a truck.
Finally, you can just get a ride to Sary-Tash. That is only an hour away and should be much cheaper. From there, you can stay the night and get a ride to Osh the next morning. Sary-Tash's backdrop is the jaw-dropping, snow-capped Pamirs.
2300 – We arrived in Osh. We had heard of a lot of people staying in Osh Guesthouse, but we stayed at the Taj Mahal Hotel. Osh Guesthouse is very Muslim and does not allow alcohol. It is also hard to find. The Taj Mahal was about as cheap and better, I thought. At the Taj Mahal, a bed is 300 soms, a two-bed room is 800. The location was great, and the service was very friendly.
Note One: The larger your group, the better. Four people would be ideal, just because most shared taxis are for four people, meaning you and three other people have to be there.
Note Two: There are two "time roadblocks," time issues you just cannot get around. The first is the fact that the border processing area in Ulugqat/Wuqiazhen will not process you until 1030, at the earliest. Getting to the processing center any earlier is useless.
The second is the three or more hour lunch break that the border guards take. You are unlikely to make it to the border before 1330, and even though we did, the border guards still did not let us through. I am not certain of this, but I think it would be better to sleep in, leave later and just try to get to the actual border by 1630. If you follow this plan, you should probably aim to leave at 1000 instead of 0800 from Kashgar.