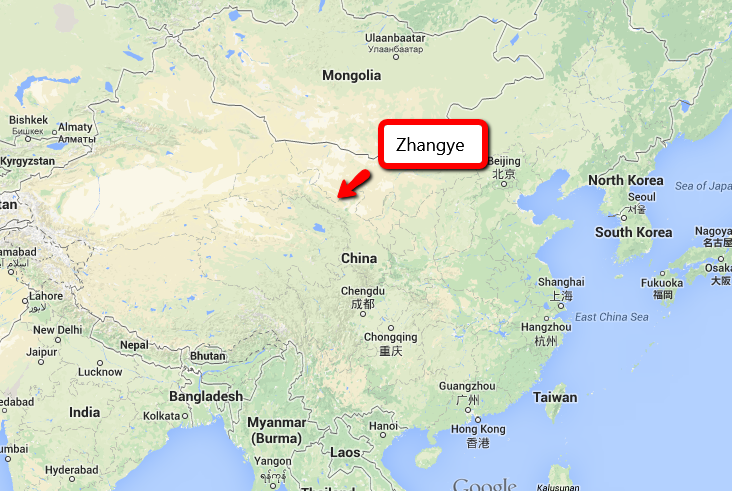 In Zhangye, we were back on the traditional Silk Road, with no more excursions into Tibetan lands. Zhangye is a midsized town located in the center of the Gansu Corridor, the spit of land running between the Qinlian Mountains and the Gobi desert that formed a passageway from inner China to the Taklamakan Desert. We were now three hundred or so miles northwest of Huazangsi, the Tibetan town where we went on our hike up to Maya Snow Mountain.
Zhangye has China's largest reclining Buddha statue, in the aptly named Big Buddha Temple. We wandered around the temple, examining the hundred foot long Buddha lying inside the main hall. His head laying on a pillow, his eyes barely cracked, suggesting that if he were any more content, he would be asleep.
The Buddha was built in 1098 by the Tangut Empire. The Tanguts were more Mongolian, though their ethnic background is still not entirely clear. They ruled over the eastern stretch of the Silk Road for almost two hundred years, until they were destroyed by Genghis Khan as he expanded his own Mongolian Empire.
Like I said, the ethnic background of the Tanguts is still up for debate, but we saw some signs of the Silk Road's transiting of people and ideas in the faces of the statues. The Buddha and some of the statues of Arhats around him show physiological characteristics fairly typical of Chinese people, but other statues showed more Mongolian features, wide eyes, stout brows and very jowly faces. These faces showed no signs of delicacy that we usually find in artistic representations of Chinese faces.
A clutch of old ladies passed us. Pointing at the Buddha's face, I ask one of them about Buddha's Indian heritage. "He wasn't Indian. I mean, he was born Indian, but once he was enlightened and became a Buddha, he wasn't Indian. They don't know what he was once he was enlightened. They don't even know where he was enlightened," she insisted.
The power behind the idea of the Silk Road is that all these different peoples, groups who we think of as far away and having little to do with each other, melted together to form a single beast that stretched from China to India to Europe. Each nation that participated contributed, and, by contributing, became part of something much larger.
But this woman was trying to dial that melting pot back a little. To her, Buddha was not Indian (he very much was), but something unknown. As far as I could read her, she wanted to think of Buddha as Chinese, or, at least, retain the possibility to think of him as not Indian, not from some distant land connected to China by the Silk Road. Instead, Buddha, for her, was Chinese, an attempt to read modern Chinese nationalism back onto an older, more cosmopolitan story.